Micronutrient fertilizer soil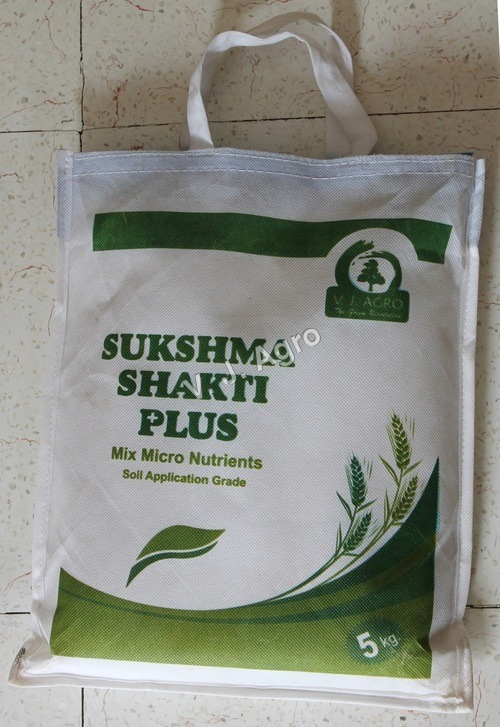 Micronutrient fertilizer soil
Price And Quantity
Kilograms/Kilograms

35 INR
Product Description
Micro nutrient fertilizer soil
Specifications of SUKSHMASHAKTI PLUS - mix micronutrient fertilizer for soil application
Is a mixer of various micronutrients such as Zinc - Zn (5%), Iron - Fe (2%), Boron - B (0.5%), Manganese - Mn (0.5%), Copper - Cu (0.2%) etc. (Govt. of Guj. Grade no. 5 for soil application)
SUKSHMASHAKTI PLUS (Micronutrient mixer)
Micronutrients are essential components in many plant metabolic systems such as photosynthesis, cell wall formation, translocation and enzyme synthesis to name just a few. The distribution of micronutrients in soil is not uniform because of world wide variation in soil properties, which result in either deficiency or toxicity of micronutrients in soil. A lack of any one or more of the micronutrients or secondary nutrients may result in poor plant growth, vigour and failure of the fruit bunch formation.
SUKSHMASHAKTI PLUS is balanced micronutrients mixer, such as Zinc, Iron, Boron, Manganese and Copper.
Zinc (Zn): Activates enzyme responsible for growth hormone production, enhances chlorophyll production, enhances respiration and transforms carbohydrates.
Iron / Ferrous (Fe): Essential for respiration and aids in chlorophyll synthesis.
Boron (B): Essential in cell wall formation, essential for translocation of sugars and starches, regulates starch production and aids in terminal bud formation.
Manganese (Mn): Regulates supply of growth hormones, acts as a catalyst, activates enzymes, aids in photosynthesis and aids in reparation.
Copper (Cu): Aids in chlorophyll synthesis, acts as a catalyst, activates enzyme, aids in photosynthesis and aids in respiration.
Magnesium (Mg): Constituent of chlorophyll, aids phosphate uptake, activates several enzymes, aids plant respiration, active in photosynthesis and carrier for phosphate and starches.