Soil Conditioner Granule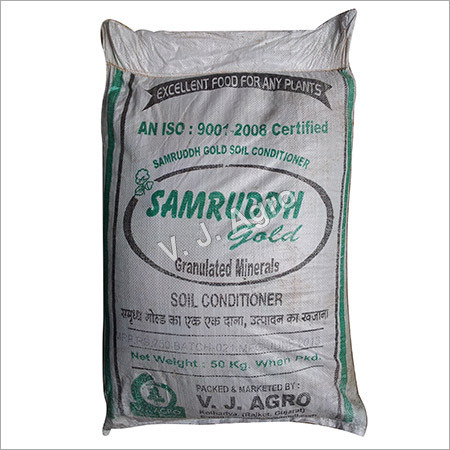 Soil Conditioner Granule
Product Description
Keeping in mind the variegated requirements of our customers, we are engaged in manufacturing, supplying and exporting Soil Conditioner Granule. Offered product is prepared using high grade ingredients, sourced from authentic vendors of the market. Our granules are highly demanded in the market for their excellent performance, biodegradable nature and large water retaining capability. We supply this Soil Conditioner Granule in premium packaging material to our customers so as to protect it from adverse atmospheric conditions.
INGREDIENTS:
Dolomite
Gaumutra arc
Amino acid
Bonmil
Seaweed extract
Humic acid
Wormy wash
Bentonite
BENEFITS of SAMRUDDH GOLD FERTILIZER:-
It helpful for decrease to fallen crops flowers & increase flowers quantity to long time crops like as mango tree, chickoo, papaya, pomegranate, guava, coconut, banana, lemon, as well as all type of vegetables like as garlic, chilli, onion, as well as helpful in cotton crops.T

There is natural calcium in Sarmruddh Gold fertilizer so soils hardness will reduce. Soil will become good and soft.

Very essential in vegetations growth and best in natural elements is pure wormy wash which is in Sarmruddh Gold fertilizer.

Soils moisture will increase very highly & if Soil which was become badly because a use of chemical fertilizer this fertilizer help to become fruitful again.

The crops, fruits, flowers, grains which are made from this fertilizer will healthy, testy and high qualitative.

There is a creation of wide range of earthworm and Bactria in soil if you use this fertilizer plants can fight with disease like fungi, emaciated will be stop & your farm production will increase.